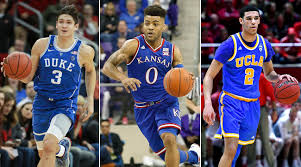 West Virginia Beats Gonzaga: Gonzaga won't be able to rack up enough points against the #1 Defense in College Basketball.
Oregon Beats Michigan: Oregon Will be able to beat the hottest Team in Basketball due to Oregon's Experience.
Kansas Beats Purdue: Purdue Just won't be able to Handle Kansas.
Arizona Beats Xavier: Arizona is One of the Best Defensive Teams in the Nation going up against the Injury Plagued Musketeers.
North Carolina Beats Butler: This will be a Close Game, #UpsetAlert??? I'm still calling NC.
UCLA Beats Kentucky: Kentucky won't be able to handle the Bruins who Smoked them in the regular season.
Baylor Beats South Carolina: SC has been a surprise up to this point, but Baylor is too good on either side of the ball, SC won't be able to hang with the Bears.
Wisconsin Beats Florida: Wisconsin is very Hot right now and Florida won't be able to contain that fast pace play from the Badgers.