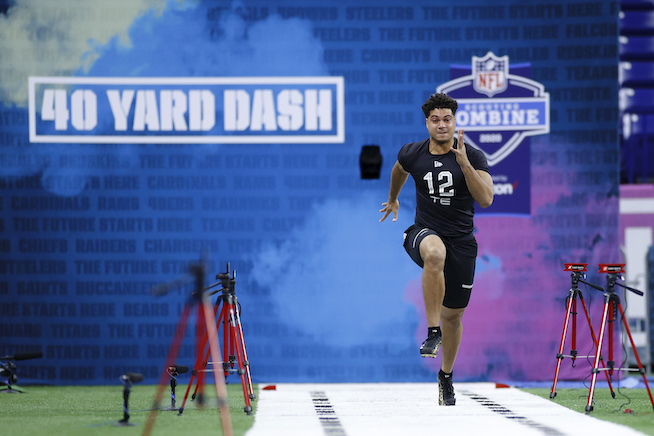 Javelin Guidry (Undrafted)                                                                                                         5-10, 190lb                                                                                                                     Position: DB
Guidry caught my attention at the NFL combine after he ran the fastest 40-yard dash for a Defensive Back at the NFL Combine (4.29) and also had the 3rd most Benchpress reps for a Defensive Back at the NFL Combine (21). He ended up going undrafted and Guidry was signed by the New York Jets as an undrafted free agent following the 2020 NFL Draft. He was promoted to the Jets active roster on October 1, 2020, and made his NFL debut in the Jets week 4 loss to the Denver Broncos that day. He came in and had an immediate impact on the Jets defense. In just 11 games and 171 defensive snaps, Guidry forced 4 fumbles, had 15 solo tackles, and even recorded a QB hit and knockdown. Became a regular special teams player as well recording 90 special teams snaps in 11 games for the Jets. Newyorkjets.com said, "Javelin Guidry is an intriguing project, who opened some eyes his rookie campaign". For an undrafted rookie, Guidry exceeded all expectations and with his athleticism, the sky is the limit if he can get the proper coaching.
Harrison Bryant (4th round (115th overall) of the 2020 NFL Draft)                      6-5, 243lb                                                                                                                            Position: TE
Coming into the Draft Bryant was criminally underrated. He was one of the most solid and best all-around Tight ends coming out of college in a while. He led all Tight Ends with 1,004 yards receiving in 2019, and for a former offensive tackle in high school, those are some impressive numbers. Bryant won the John Mackey Award in 2019 and was named unanimous first-team all-American. He won't wow you with athleticism but he had everything you want from a Tight end, legit blocking talent, great pass-catching ability, and enough of a route tree and route-running ability to consistently get open against linebackers. In his first season in the NFL, the 4th round pick played in 15 games starting in 9 of them. Starting 9 games doesn't seem like a huge accomplishment for a 4th round pick, but when you consider the talent in that Cleveland Browns tight end room (which includes Austin Hooper and David Njoku) it's a huge accomplishment and shows just how much that Browns coaching staff trusts him. Over 58% of his catches went for first downs (14 out of 24) and Bryant also caught 3 touchdowns in his rookie campaign. By the end of the season, Bryant had played 56% of the Browns offensive snaps and also contributed on special teams playing 30% of special teams snaps.
Isaiah Rodgers   (6th round (211th overall) of the 2020 NFL Draft)                       Position: CB /KR
I was baffled at the lack of attention Isaiah Rodgers was getting coming into the 2020 NFL Draft. He was one of the most electric and consistent return-men in NCAA history.  In 4 years at UMASS, he racked up over 2,300 kick return yards and averaged 23.6 yards per return. His senior season he led the Nation in Combined Kick Returns (1,415 Yards) and was named PFF College All-America First Team (Kick Return). On top of being an elite threat in the return game, Rodgers was a big-time playmaking corner as well. In his 4 years at Massachusetts Rodgers pulled in 11 interceptions, 34 passes defended, 9.5 tackles for loss, and 242 interception return yards.  Watching the tape I felt this guy was going to be one of the biggest steals in draft history. In his first season in the NFL, he showed why he was a PFF all first-team returner in college. He racked up 704 all-purpose return yards (5th Most in the NFL) and averaged a very impressive 28.8 yards per kickoff return (3rd best in the NFL). In October, Rodgers recorded a 101-yard kickoff return touchdown against the Browns to help the Colts get back into that game. Rodgers didn't see much of a defensive role this season with the Colts, only playing 51 defensive snaps, but you might see him in an expanded role in the next few seasons.
Harrison Hand  (5th round (169th overall) of the 2020 NFL Draft)                          5-11, 197lb                                                                                                                    Position: CB
Hand caught my attention before the combine for his solid senior year stats as well as his College tape. He showed great ability and willingness to tackle and seek out contact. He has a firey on-field personality and great instincts. Hand really opened my eyes with his NFL combine performance recording the Highest verticle jump for a defensive back at the NFL combine (41″) and also the 2nd best Longjump for a defensive back at the NFL combine (133″). Harrison had an insanely solid season for the Vikings. Playing in 14 games (Starting 1) Hand allowed an outstanding 55% completion percentage as well as a passer rating of just 74.6 when targeted. Playing in just 15% of defensive snaps, Hand racked in one Interception (Picking off Drew Brees in Week 16 )  3 passes defended, and 14 solo tackles in his rookie campaign.
Lynn Bowden Jr. (3rd round (80th overall) of the 2020 NFL Draft)                        5-11, 204lb                                                                                                                                        Position: WR/RB/QB
Heading into the Draft, no one was really sure what position Bowden was going to play in the Pros. In his senior season, Bowden was converted from a Wide Receiver/Running Back to a lethal dual-threat Quarterback. He was so versatile of a college player he won the Paul Hornung Award in 2019 (Past winners include Tavon Austin, Saquon Barkley, Christian McCaffrey, Odell Beckham Jr.). His college resume included over 1,300 career receiving yards, over 1,500 career rushing yards, over 1,800 career return yards, and 500 yards passing his senior season. I seriously felt like Bowden could come in and be the "Next Taysom Hill", giving the offense that drafted him an advantage of mystery every time he was on the field due to how versatile his skill set is and the countless things you can do with him in the proper scheme. Bowden was drafted by the Raiders but later traded to Miami where he found his position as a gadget Wide receiver. Bowden played in only 10 games his rookie season, starting 4 of them. He tallied an insane 75.7% catch percentage and a perfect 0.0% drop percentage on 37 targets. He recorded a total of 211 receiving yards, 32 rushing yards, and 32 passing yards on the season.