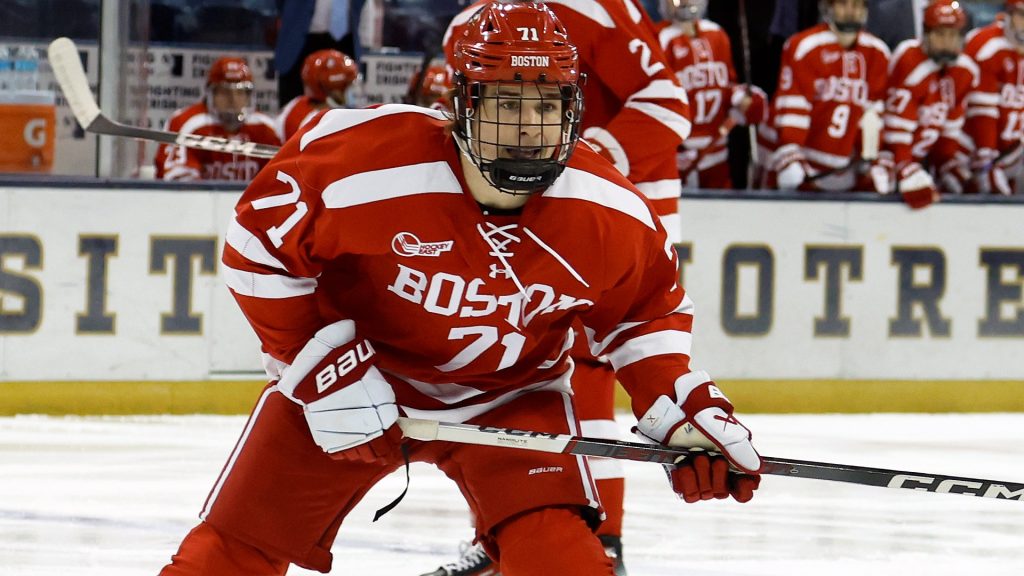 When you hear the name Macklin Celebrini, what comes to mind? For many scouts in the hockey world, it's the image of a dynamic, explosive forward who was born to play the game. As the NHL 2024 Draft approaches, it's impossible not to get excited about Celebrini's potential. He's not just any prospect; he's a phenomenon, a standout talent who's quickly becoming the talk of the league.
Let's dive into what makes Macklin Celebrini such a special prospect.
Hockey IQ and Offensive Prowess
Celebrini's intelligence on the ice is beyond his years. How he reads the game, anticipates plays, and finds himself in the correct position at the right time is uncanny. He's got a knack for being exactly where the puck will be, making him a constant threat in the offensive zone.
Offensively, Celebrini is a force to be reckoned with. His ability to both create and finish plays is remarkable. He has soft hands that can dance around defenders, and his release is pinpoint and accurate when it comes time to shoot. Celebrini's versatility as both a playmaker and a scorer makes him a dual threat – defenders must respect both his shot and his ability to dish out a perfect pass.
Skating and Physicality
Celebrini's skating is another aspect that sets him apart. He is incredibly agile and has an explosive first few strides that allow him to blow past defenders. His edgework and balance on skates are also top-notch, letting him maneuver through tight spaces on the ice easily.
In terms of physicality, Celebrini doesn't shy away from contact. He's sturdy on his skates and can hold his own against bigger opponents. His ability to maintain puck control while being challenged physically is a testament to his strength and skill.
Defensive Play and Work Ethic
While Celebrini shines offensively, he pays attention to his defensive responsibilities. He's a hard worker off the puck, consistently applying pressure and disrupting the opposition's plays. Celebrini's commitment to a two-way game is a crucial attribute that makes him a well-rounded player.
His work ethic is evident in every shift. Celebrini plays with a level of intensity and determination that you can't help but admire. He's the kind of player who gives 100% every time he's on the ice, whether it's a regular season game or a high-pressure playoff scenario, you can count on him to be up and down the ice his entire shift.
Areas for Improvement
Like any young player, Celebrini has areas where he can improve. While his defensive game is solid, there's always room for refinement, particularly in his positioning and decision-making in his own end. As he progresses and faces higher levels of competition, these aspects of his game will be crucial for his development.
The Road Ahead
As Celebrini gears up for his next big challenge at Boston University, there's no doubt that he's on the right track.
The buzz around Celebrini is real, and it's well-deserved. He's not just a player with excellent skills but with the potential to make a significant impact at the NHL level. It's still early, and many things can happen between now and the 2024 Draft, but as of now, Celebrini is a name that's firmly etched at the top of the list.
In conclusion, Macklin Celebrini is a prospect who embodies the spirit of modern hockey. His blend of skill, intelligence, and work ethic makes him a standout player in his draft class. While there are always uncertainties in projecting young talents, Celebrini's trajectory suggests that he's on the path to becoming a significant player in the NHL. For teams looking for a player who can change the course of their franchise, Celebrini is the player to target. His journey is just beginning, and seeing how far his talent and dedication will take him will be exciting.