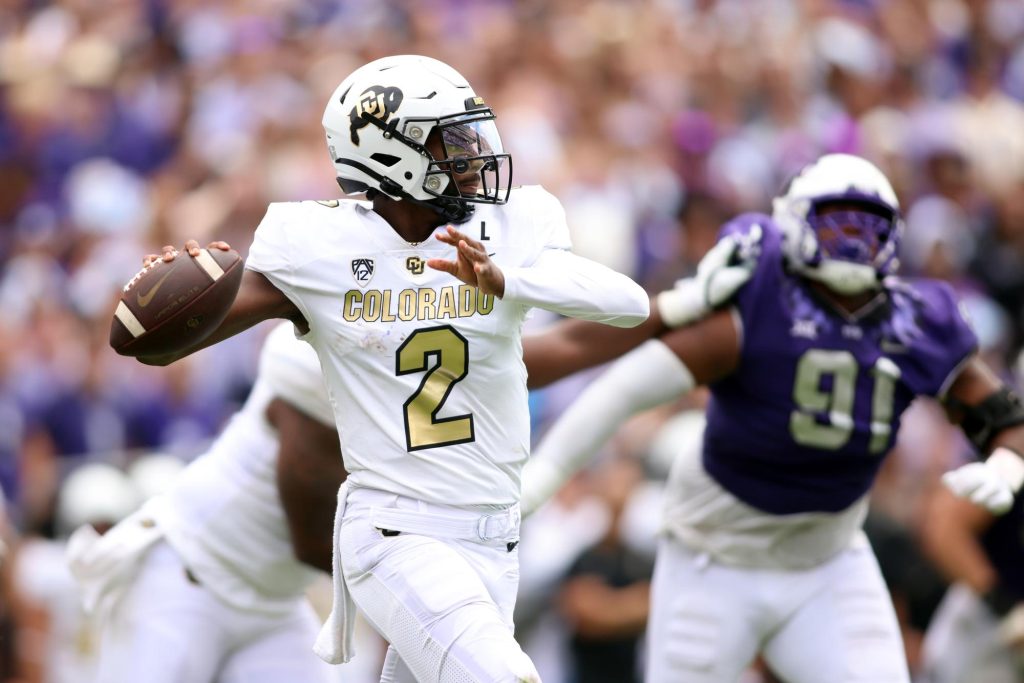 Overview
While carving out his unique path to NFL recognition, Shedeur Sanders emerges as an interesting talent with a notable blend of recruiting pedigree and NFL lineage. Possessing an impressive physical stature and a heritage steeped in football expertise, Sanders has cultivated a nuanced understanding of the game, demonstrating the potential to adapt and grow as he transitions to a more competitive setting in the Pac-12 in 2023.
Strengths
Athleticism and Mobility
Standing at 6'2″ and tipping the scales at 215 pounds, Sanders has the physical attributes that make him a commanding presence on the field. He utilizes his athleticism to maintain poise within the pocket and extend plays, showcasing an innate ability to manipulate defenders and deliver precise passes even while on the move.
Leadership and Composure
Sanders is noted for his palpable leadership qualities, displaying a fierce determination, particularly in critical game situations. His resilience post-turnover and ability to galvanize his team exemplify his leadership skills.
Game Understanding
With an ingrained and intuitive "feel" for the game, Sanders reflects a high level of understanding. Even under considerable pressure, his ability to find pivotal passing windows hints at a deeper connection and mastery of his offensive responsibilities.
Weaknesses
Throwing Mechanics
Despite his consistent high, over-the-top release, Sanders' throwing mechanics present noticeable gaps. His reliance on his upper body and erratic footwork sometimes hamper his throwing efficiency, causing unstable releases and off-target passes.
Ball Security
A glaring concern revolves around Sanders' approach to ball security. His 19 career fumbles underscore a vital area requiring immediate attention and rectification.
Arm Strength and Deep Throws
Sanders' arm talent assessment offers mixed reviews. While he has shown instances of NFL-caliber strength, the inconsistency, especially in deep throws, necessitates further on-field evaluation. His tendency to exhibit a lingering wobble on certain passes emphasizes the need for refinement.
Projection and Potential
As Sanders prepares to face better defenses of the Pac-12, his capabilities will be scrutinized to determine if his raw talent can meet NFL standards. The shift in competition level will serve as a proving ground for Sanders, pushing him to hone his mechanics and adapt to a heightened level of play.
Sanders must demonstrate substantial improvement, particularly in tightening his release and augmenting his arm strength to fit the ball into tighter windows with higher velocity.
Conclusion
Shedeur Sanders is a quarterback prospect with significant upside due to his physical attributes, game understanding, and notable leadership qualities. However, to fully tap into his potential and establish himself as a viable NFL draft pick for 2024, Sanders must address significant areas of weakness, including ball security, throwing mechanics, and overall consistency.